Product Description
SEF361000LIES1, Square D SEF1000 insulated case circuit breaker, type SEF, SE Series, 3 phase, Square D 3-pole breaker, 1000A, 600V, rated 100KAIC@480V, bolt-on type, electrically operated, Micrologic Series trip device with LI tripping functions, LI Long-Time & Instantaneous trip functions.
THIS SQUARE D SEF361000LIES1 CIRCUIT BREAKER CAN BE PROFESSIONALLY RECONDITIONED, SERVICED, AND PRIMARY INJECTION TESTED BY OUR PROFESSIONAL CIRCUIT BREAKER TECHNICIANS. THIS SQUARE D 3-POLE BREAKER COMES WITH CERTIFIED TESTING REPORTS. THIS UNIT OF INDUSTRIAL ELECTRICAL EQUIPMENT INCLUDES A 1-YEAR WARRANTY.
WE CAN ALSO RETROFIT ANY SE OR SEF SERIES CIRCUIT BREAKER WITH A NEW AC PRO II TRIP UNIT. THIS UPGRADE WILL ADD NEW FEATURES AND INCREASE THE RELIABILITY OF YOUR SED OR SEF CIRCUIT BREAKER. ORDER INDUSTRIAL ELECTRICAL EQUIPMENT TODAY!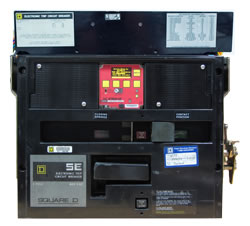 Square D, SEF/SED AC Pro II Upgrade
Upgrades available for 800A to 4000A frame breakers

Kit reuses the existing actuator

Modbus communications standard with

the AC-PRO-II
Power and voltage information available with the VDM