Product Description
SEF361000LIG, Square D SEF4000 insulated case circuit breaker, type SEF, SE Series, 3 phase, 3-pole, 1000A, 600V, rated 100KAIC@480V, bolt-on type, manually operated, Micrologic Series trip device with LIG tripping functions: (LIG) Long-Time, Instantaneous, and Ground Fault trip functions.
THIS SEF361000 CIRCUIT BREAKER SQUARE D CAN BE PROFESSIONALLY RECONDITIONED, SERVICED, AND PRIMARY INJECTION TESTED BY OUR PROFESSIONAL CIRCUIT BREAKER TECHNICIANS. THIS INSULATED CASE CIRCUIT BREAKER COMES WITH CERTIFIED TESTING REPORTS AND A 1-YEAR WARRANTY.
WE CAN ALSO RETROFIT ANY SE OR SEF SERIES CIRCUIT BREAKER WITH A NEW AC PRO II TRIP UNIT. THIS UPGRADE WILL ADD NEW FEATURES AND INCREASE THE RELIABILITY OF YOUR SED OR SEF CIRCUIT BREAKER.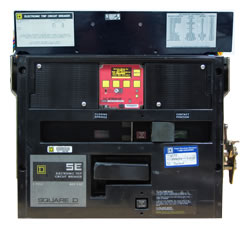 Circuit Breaker Square D, SEF/SED AC Pro II Upgrade
Upgrades available for 800A to 4000A frame breakers

Kit reuses the existing actuator

Modbus communications standard with

he AC-PRO-II
Power and voltage information available with the VDM